all mixed up : free online games
Play Poker Games
There is a wide variety of poker games to play. They are all as exciting to play as they are easy to learn. Often, a player begins with frequent poker variations of Hold'em and Five Card Draw. However, once a novice learns his first poker game, often he is hesitant on learning a new variant. Sometimes, transitioning from one poker game to the other may seem tricky but any player who has overcome his fear can firmly say that it was definitely worth it. Here we will introduce you to most common variations of poker games.
If you're European based and looking to play these games online then we recommend playing with free money until you feel comfortable. A website here www.newbingosites.net will give you a decent list of operators offering free play.
For American players who want a wide range of poker games, from Texas Hold'em to Hi-Lo and Omaha, www.lockpoker.eu accepts US players and has a full roster of tournaments and game varieties for beginner or seasoned players.
Five Card Draw
A classic poker game that most likely you played as a teenager. Even if that's not the case, you should know that past the common poker hands ranking memorization, Five Card Draw is one of the easiest poker games to learn and to play among your friends.
Poker Hands Rankings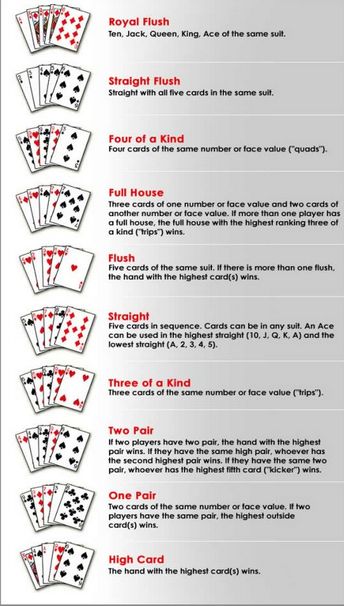 It is because there are fewer betting rounds. You get five cards. You evaluate them and complete a betting round. You may exchange some of your cards (some variants allow all five) and bet again. At showdown who has the best hand wins.
Texas Hold'em
It seems that after poker overtook online gaming market, Texas Hold'em became the most popular game around. At first Pot Limit, now No Limit Texas Hold'em. The goal is to make the best five-card hand using your own two and 5 community cards that everybody else is allowed to make the best hand. Or, you can win by making everybody else fold. The biggest poker tournament in the world, WSOP Main Event is played in this format.

Omaha is very similar to Texas Hold'em so if you are looking to learn new games, this one may be just what you need. Similarly, there are five community cards. The difference is that you are dealt four cards instead of two and you must use exactly two of them and three community cards to form the best hand.
Seven Card Stud
This variation is quite unique. Each player starts holding 3 cards one of which is showing. There are no community cards. However, each player then receives three more cards face-up (each separated by a new round of betting). The seventh cards is dealt face-down. There is a variation of Five Cards Stud.

Additional poker games include Razz, Open Face Chinese Poker, 2-Triple Draw, 3 Card Poker, Badugi, etc. These variations are the favorites to some professional players but these are rare choices for beginners.

One of these variations, Open Face Chinese Poker you can learn from the video below:

http://www.youtube.com/watch?v=p_ieHbTVbPs

All in all, do not be afraid to experiment. Deciding what type of poker game to play is just as important as choosing whether to play Cash games, Sit and Go's or MTT's. Though, it is often overlooked. The most important thing is the chance to learn all of that playing free poker games online and not risk any money. Who knows, maybe you will end up finding the most fun and exciting way to play poker for you.